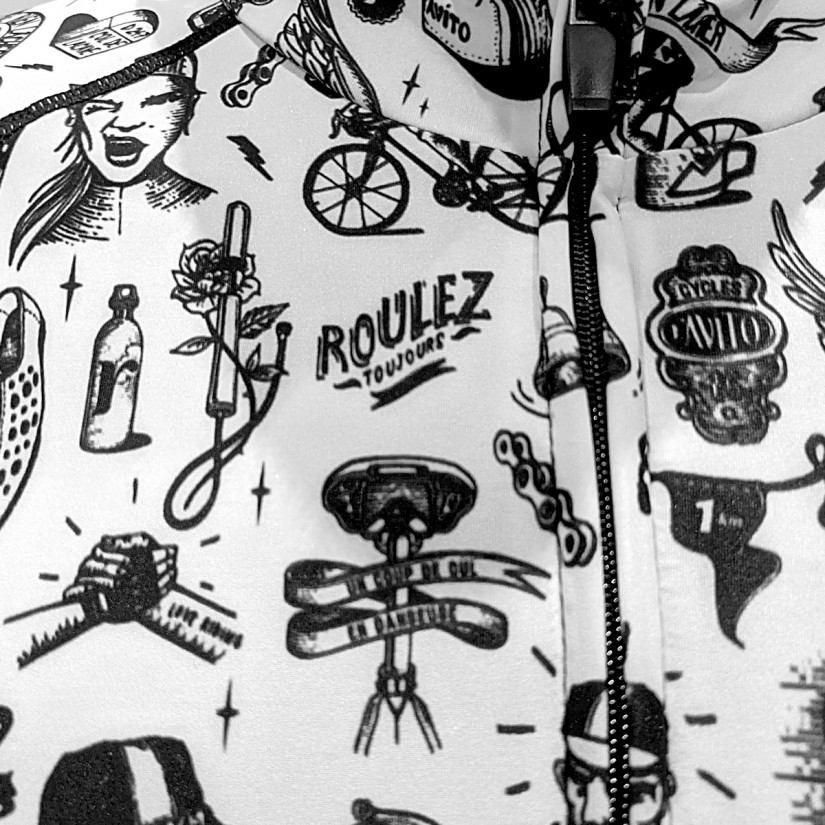  
copy of TATTOO'S RAVITO JERSEY
Technical performance meets originality!
Beautifully illustrated by RAVITO's co-founder, Céline Dayes, the tattoo collection.
With signature RAVITO colours on the sleeves…as sported by team RAVITO!
RAVITO TATTOO JERSEY; creative originality in a technical jersey!

Features:
3 back pockets
1 back pocket with zip closure
Reflective pocket edge
Side pocket for quick storage of bars / gels or other essentials, this pocket can also be used to store rubbish, to be disposed of responsibly later.  
Made of lycra and breathable mesh
This table is a general size guide. Products may vary slightly in size, but do not fear, we can exchange them for free !
HOMME / MEN
GUIDE DES TAILLES DES MAILLOTS
SIZE / TAILLE

TO FIT CHEST SIZE / TOUR DE POITRINE

 
INCHES
CM
XS
36-38
85-91
S
38-40
91-96
M
40-42
96-101
L
42-44
101-105
XL
44-46
105-110
XXL
46-48
110-116
GUIDE DES TAILLES DES CUISSARDS
SIZE / TAILLE

TO FIT WAIST SIZE / TOUR DE CEINTURE

 
INCHES
CM
XS
28-30
74-78
S
30-32
78-81
M
32-34
81-86
L
34-36
86-91
XL
36-38
91-96
XXL
38-40
>96
FEMME / WOMEN
GUIDE DES TAILLES DES MAILLOTS
SIZE / TAILLE

TO FIT CHEST SIZE / TOUR DE POITRINE

 
INCHES
CM
XS
34-36
88-92
S
36-38
92-96
M
38-40
96-100
L
40-42
100-104
XL
42-44
104-108
XXL
46-48
>108
GUIDE DES TAILLES DES CUISSARDS
SIZE / TAILLE

TO FIT WAIST SIZE / TOUR DE CEINTURE

 
INCHES
CM
XS
28-30
74-78
S
30-32
78-81
M
32-34
81-85
L
34-36
85-90
XL
36-38
90-95
XXL
38-40
>95
GUIDE DES TAILLES DE CHAUSSETTES
| UK SIZE | EU SIZE | US SIZE | FOOT LENGTH (MM) |
| --- | --- | --- | --- |
|   |   |   |   |
| 2.5-4.5 | 35-38 | 3.5-6 | <246 mm |
| 5.5-7.5 | 39-42 | 6.5-8.5 | 246-270 mm |
| 9-10.5 | 43-46 | 9-11.5 | >270 mm |