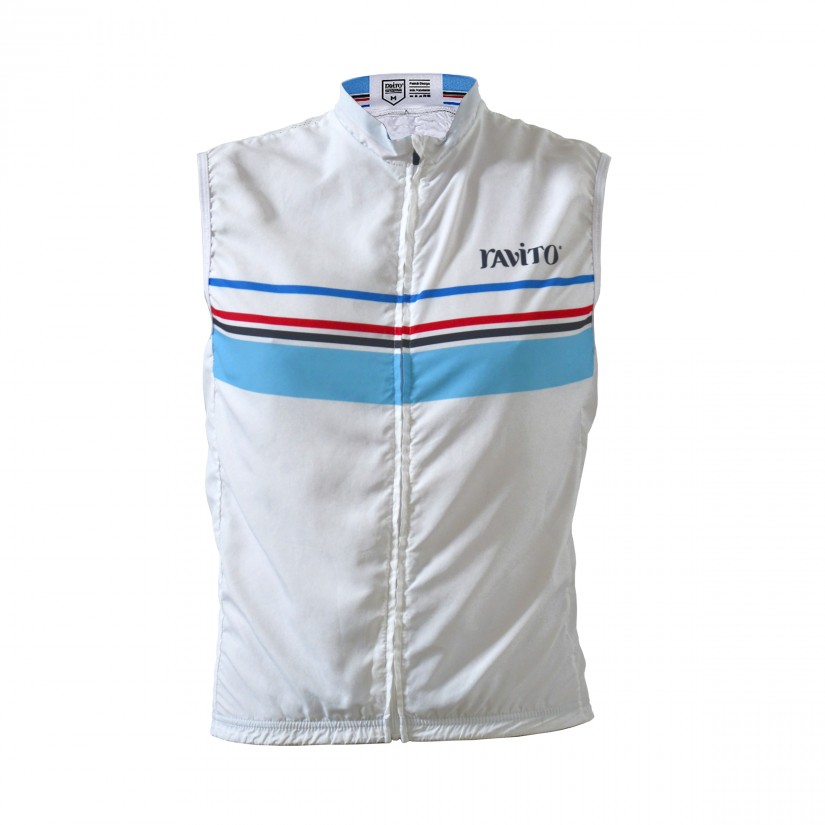  
LIGHTWEIGHT WINDPROOF GILET
The RAVITO PRO WHITE ULTRALIGHT GILET is aptly named!  This indispensable gilet is made from an ultralight but windproof material, weighing only 60g in total…and we cyclists know that every gram counts!  Once folded into the attached small bag, it fits into the rear pocket of your jersey, without being too bulky. 
Technical performance meets style; with signature RAVITO colours.  A real necessity!
Features:
3 back pockets
1 back pocket with zip closure
Reflective pocket edge
Side pocket for quick storage of bars / gels or other essentials, this pocket can also be used to store rubbish, to be disposed of responsibly later.  
Made of lycra and breathable mesh
LIGHTWEIGHT WINDPROOF GILET
This table is a general size guide. Products may vary slightly in size, but do not fear, we can exchange them for free !
HOMME / MEN
GUIDE DES TAILLES DES MAILLOTS
SIZE / TAILLE

TO FIT CHEST SIZE / TOUR DE POITRINE

 
INCHES
CM
XS
36-38
85-91
S
38-40
91-96
M
40-42
96-101
L
42-44
101-105
XL
44-46
105-110
XXL
46-48
110-116
GUIDE DES TAILLES DES CUISSARDS
SIZE / TAILLE

TO FIT WAIST SIZE / TOUR DE CEINTURE

 
INCHES
CM
XS
28-30
74-78
S
30-32
78-81
M
32-34
81-86
L
34-36
86-91
XL
36-38
91-96
XXL
38-40
>96
FEMME / WOMEN
GUIDE DES TAILLES DES MAILLOTS
SIZE / TAILLE

TO FIT CHEST SIZE / TOUR DE POITRINE

 
INCHES
CM
XS
34-36
88-92
S
36-38
92-96
M
38-40
96-100
L
40-42
100-104
XL
42-44
104-108
XXL
46-48
>108
GUIDE DES TAILLES DES CUISSARDS
SIZE / TAILLE

TO FIT WAIST SIZE / TOUR DE CEINTURE

 
INCHES
CM
XS
28-30
74-78
S
30-32
78-81
M
32-34
81-85
L
34-36
85-90
XL
36-38
90-95
XXL
38-40
>95
GUIDE DES TAILLES DE CHAUSSETTES
| UK SIZE | EU SIZE | US SIZE | FOOT LENGTH (MM) |
| --- | --- | --- | --- |
|   |   |   |   |
| 2.5-4.5 | 35-38 | 3.5-6 | <246 mm |
| 5.5-7.5 | 39-42 | 6.5-8.5 | 246-270 mm |
| 9-10.5 | 43-46 | 9-11.5 | >270 mm |